Caribbean Volcanoes
& La Réunion
The Caribbean is a region that consists of the Caribbean Sea, its islands, and the surrounding coasts. It comprises the areas southeast of the Gulf of Mexico and the North American mainland, east of Central America, and north of South America.




*I have included the Piton de la Fournaise volcano on Réunion here as I have no page for volcanoes in the Indian Ocean yet.*

The notes of seconds/minutes above an image show the approx. auto-refresh time. - If you click on the sun button
on top of a webcam a clear weather image from that webcam will pop up to help you picture the lay of the land when the mountain is shrouded in dark clouds for days or weeks!

Learn more about these volcanoes at the Volcano Hotspot blog.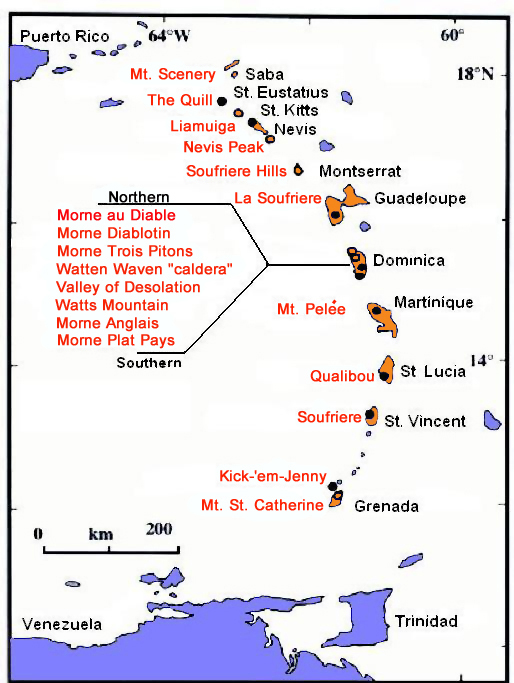 Caribbean Arc Map (From the excellent website Caribbean Volcanoes by geologists John Roobol and Alan Smith)



Local time is for Caribbean
countries on this page

and for Reunion

Montserrat is an Island of the Lesser Antilles chain and a British Overseas Territory.
Montserrat: SOUFRIÉRE HILLS O-web 5 min.


The location of the webcam is at Garibaldi Hill, 6 km NW of the volcano, and you can see Soufrière Hills (915 m) volcano in the background. It occupies the southern half of the island of Montserrat. During its last eruptive period from 1995 to 2010 it destroyed the capital city of Plymouth, causing major social and economic disruption.
Thermal camera showing Soufrière Hills volcano. Animation is sixty frames for the last hour. (Use your right mouse button to play! Rechte Maustaste > Abspielen):




Ash piled as high as a streetlamp
on the streets of Plymouth (1999):



© Gary Mark Smith, Wikipedia

Martinique: Mt. PELÉE 10 Min. O-Web O-IMG

Mount Pelee from the Observatory

Guadeloupe: SOUFRIÉRE de G. ? Min. O-Web O-IMG

Soufriere Guadeloupe seen from Houëlmont
I am fully aware that La Réunion does not fit in here geographically. The Island lies some 700 km east of Madagascar in the Indean Ocean, and is an overseas department of France.

The Piton de la Fournaise, a shield volcano on the eastern end of Réunion Island (2,631 m or 8,632 ft a.s.l.) has erupted more than 100 times since 1640 and is under constant monitoring by the Piton de la Fournaise Volcano Observatory. Latest eruption was in 2010. The volcano has been created as a hotspot volcano, like its neighbor the Piton des Neiges and the islands of Mauritius and Rodrigues.


Photo: B.navez, Wikimedia





WEBCAMS


FOURNAISE 1 ? min. sec. O-Web O-IMG

View from Piton des Basaltes towards the N and NW parts of La Fournaise.

Reunion: FOURNAISE 3 O-Web O-IMG ? min.

View from Piton des Cascades, NE of the caldera, over the E and S slopes.

Reunion: FOURNAISE 5 O-Web O-IMG 1 min.

View from Piton Partage on the northern caldera rim towards the N and NE parts of La Fournaise.
Left:
MODVOLC - MODIS volcano hot spots last 2 days - University of Hawaii






Right: Detailed map on the wonderful website Fournaise.Info with many informative pages about hiking and viewing the volcano. Click on image for full view.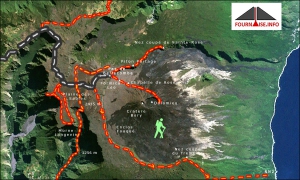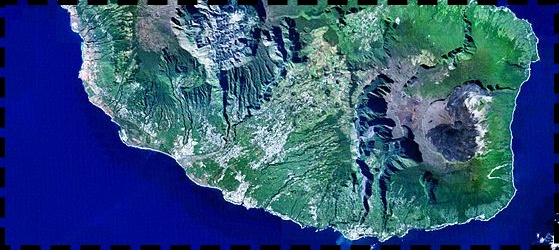 Click on image for large view of entire La Réunion.

---

PITON de la FOURNAISE 2 O-IMG 3 min.

View from Bory into Crater Dolomieu.


FOURNAISE 4 O-IMG 15 min. O-Web

Dolomieu crater, E part.

FOURNAISE 6 O-IMG 15 min. O-Web

View from the SW; Piton Bert, over Enclos Fouqué.